MyBadges Magazine
Welcome to the blog for MyBadges.com! We're happy to have you stop by and check out the latest of what's happening in our world, on the other side of the eventprof world! We want to share what's happening in our world, how we can make your life more efficient, and so much more. Make sure you're also following us on social media and our mailing list as well. Thanks for stopping by!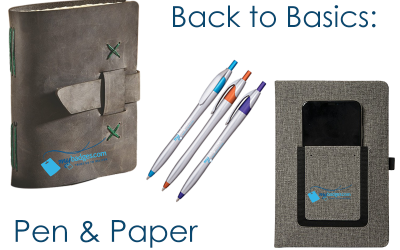 We are surrounded and spend each day immersed in technology. The advancements in technology have been incredible, and lead us to put on some amazing events! However, sometimes you just need to jot something down, write down a plan of action, plan schedules, and so much more.
Ashley has worked at MyBadges for over four years and handles both sales and marketing for MyBadges. When she's not working, she spends her spare time running/hiking, traveling, and chasing after her nieces and dog.
Nickname: The Kid
Favorite Place: Beaune, FR / Amsterdam, ND
Favorite Quote: "Success is often achieved by those who don't know that failure is inevitable" — Coco Chanel
Sean is the big boss. We had to nickname him this because his son is referred to as the little boss, even though he's a ways away from that corner office. Sean started this company in 1988 as a side hobby with no one except himself running the show.
Favorite Place: Cape Town
Favorite Quote: It's not good enough that we do our best. Sometimes we have to do what is required" — Winston Churchill